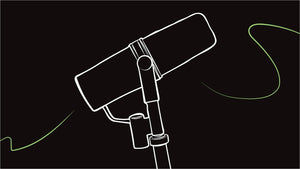 50th Anniversary of SM7B | Iconic Mic Celebration 2023
SM7B 50th Anniversary in Year 2023
Time flies. In 2023, Shure is celebrating the 50th anniversary of a legendary mic that has gained popularity globally among musicians, streamers and podcasters alike. Join us as we uncover the secrets of the rise of the SM7B Vocal Microphone.
How it began
The SM7 story begins with the SM5 broadcast mic - a unidirectional dynamic boom mic introduced in 1964. It was designed specifically for television and film studios. In the late 1960s, Shure set out to develop a new microphone to cater to the recording studios, radio stations as well as for voiceover work. The SM7 microphone made its debut in 1973. 
The SM (Studio Microphone) line up was introduced for radio, television and film studios. Several of the SM mics, notably the SM57 and SM58, found a home on stages for live performance where they dominate to this day. 
When SM7 was added to the line in 1973, it immediately lived up to it's birthright as a studio mic. Designed for broadcasting and voiceover work, the SM7 diaphragm is optimized for increased low-end response by being thinner, and therefore more flexible. The housing of the SM7 allows for a larger volume of air behind the cartridge, which also extends its voice-friendly low-end response. The SM7 was able to provide the rich low-end response preferred by voiceover artists. 
To hear the differences in the SM7B frequency response settings, check out the audio samples (around 10:24) in this podcast episode.
Then and Now
When the SM7 was introduced in 1973, the U.S. retail price was $257 or $1,741 in current US dollars. Today, the MSRP of the SM7B is not $1,741, but only $399.
While there have been manufacturing and material changes over its long history, there have also been performance enhancements. The SM7 was replaced by the SM7A in 1999. The SM7B replaced the SM7A in 2001, adding a larger accessory windscreen. 
50th Anniversary Celebration of SM7B
SM7B is no doubt one of Shure's iconic microphones. The SM7B has achieved a level of popularity and buzz that give it legendary status. 
50 years after its debut, the SM7B is more popular than ever with engineers, performances, content creators, broadcasters, gamers and streamers. From beat boxing to podcasting powerhouse, you would have seen a SM7B in action.
Discover the first choice for voice today at Shure Shop - SM7B Dynamic Vocal Microphone.
---