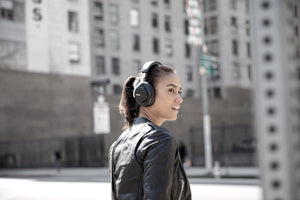 Open-Back, Wired, or Wireless? Choosing Headphones in Singapore
Noise Cancelling, Wireless or Open-Back: Choosing Your Ideal Headphones in Singapore
Once you've understood the difference between earphones and headphones and have decided that headphones are the ones for you, another hurdle lies ahead - finding the right one for you. Choosing the right headphones to meet your needs is essential as they are gadgets that play a significant role in determining how you perceive audio, sound and music. Furthermore, if you are making a sizeable investment on a pair of headphones, then you would want to ensure that it is well worth the investment. With a wide range of headphones available in Singapore, do you go for wireless or wired headphones, open-back or closed-back ones? With so many things to take into consideration, how should you go about making your decision? Here are some key factors to consider.
1. How Do You Plan on Using the Headphone?
For the everyday user, a pair of headphones are typically for them to listen to their favourite music or watch their favourite videos even when they are on the go. Hence, convenience is a big part of their needs.
Putting that in mind, Shure designed the SRH440 Professional Around-Ear Stereo Headphones to be both reliable and convenient. The collapsible design ensures that this professional headphone can be packed away easily and taken with you anywhere. At the same time, the headphone is optimised for both personal and professional devices, making the sound quality unmatched.
2. CHOOSING BETWEEN CLOSED-BACK OR OPEN-BACK HEADPHONES
Not too sure of the difference between closed-back and an open-back headphone? For a more private listening experience or isolated monitoring during a recording session, a closed-back headphone would be recommended. If you are looking for something more accurate and natural, then open-back headphones are for you. However, do note that an open-back headphone would not be ideal in a noisy environment or when recording using a microphone. Here are two of Shure's most popular closed and open-back headphones:
SRH840 PROFESSIONAL MONITORING HEADPHONES
The SRH840 Professional Monitoring Headphones are closed-back, making them an ideal choice for professional audio engineers and musicians in the studio for recording and listening. From a personal listening perspective, they are also slightly more bass-heavy.
SRH1840 PROFESSIONAL OPEN-BACK STEREO HEADPHONES
Developed with premium materials and precision engineering, the SRH1840 Professional Open-Back Stereo Headphones are Shure's premier open-back option. Their natural, "airy", and detailed sound, with wide stereo imaging, makes them the perfect candidate for professional recording, mastering, and audiophile applications.
A Wireless Alternative
Yes, the wires of a wired headphone can sometimes be quite a hassle, especially when they get all tangled up. This is the reason why many users in Singapore are switching or have already switched to wireless headphones. For most of them, the main concern would be if the sound quality is being compromised since it has gone wireless. With the cutting-edge technology of this era, sound quality is definitely not being compromised at all. In fact, it continues to be enhanced further.
Keeping up with change and modern-day society, Shure launched the AONIC 50 Wireless Noise-Cancelling headphones to provide users with premium, wireless studio-quality sound engineered from decades of professional experience. Aside from having no cords and wires, the AONIC 50 also has adjustable noise cancellation to eliminate external distractions to provide a truly immersive listening experience.
Empowering Your Experience
Shure has always been about empowering our users to provide them with the best experience possible. We want to take you to the next level with our headphones. Do not fret if headphones are not your preference, we also have some of the best earphones in the market that you can check out.
For a complete range of headphones in Singapore, be it wireless, wired, open-back or closed-back, turn to Shure. To get started, check out our guide on the 3 tips for choosing a pair of noise-cancelling headphones in Singapore.
---