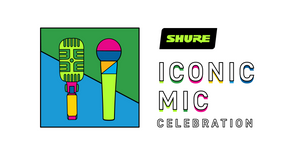 Shure Iconic Microphones: SM58, 55SH, SM7B, SM57
Every icon has a story.
So what exactly makes a mic iconic?
Musicians. Entertainers. Streamers. Leaders. Every icon has a story. You've heard them before: At your first gig. On karaoke night. In a packed concert. These are the most iconic mics in the world. 
We are so thrilled to kick off our Iconic Mic Celebration - an annual global campaign that begins on 2 May to 8 May. This week celebrates the history and popularity of the Super 55, 55SH, SM58 and other microphones. Read more about the top 4 iconic mics from Shure below.
1. SM58 Dynamic Vocal Microphone 
Shure's iconic SM58 Vocal Microphone, the most photographed and recognized microphone in the world, has its own day to celebrate – May 8 (5/8). The #SM58Day celebrates the storied history of the SM58. Introduced in 1966, SM58's acoustic engineering and durability has set the global standard for performance vocal mic.
The legendary Shure SM58 Vocal Microphone is designed for professional vocal use in live performance, sound reinforcement, and studio recording. A highly effective, built-in spherical filter minimizes wind and breath "pop" noise. 
2. 55SH Series II Iconic Unidyne Vocal Microphone
Nothing completes the style quite like the 55SH Series II, a microphone that has been gripped by legends for decades. The Model 55 Unidyne defines classic design just as much today as it did nearly 80 years ago when it made its official debut. Celebrate with us on 5 May and hashtag #Super55Day.
3. SM7B Vocal Microphone
The podcasters' #1 mic we celebrate this week was part of a legendary moment of another icon way before podcast existed. The earlier version of the SM7B (known as SM7) was the choice to record Michael Jackson's voice on Thriller, the best-selling album of all time! Many other artists such as John Mayer, Billy Idol, Jeffy Tweedy and more have reportedly used the SM7B Vocal Microphone in either live sound or recording microphone applications. 


4. SM57 Dynamic Instrument Microphone 
Walk into any professional studio or performance venue and you will probably see a Shure SM57 Dynamic Microphone around. It's simply the standard go-to microphone when someone needs a workhorse. The legendary Shure SM57 is exceptional for musical instrument pickup and vocals. 
We would love to hear about your love for these iconic mic. Please post on any social media platform using #IconicMicWeek to share your story. 

 
---