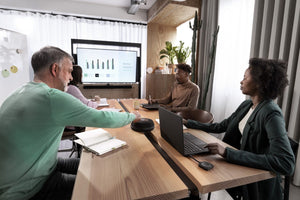 Beamforming Microphones & More: Stem Ecosystem in Singapore
The use of video conferencing technologies went through the roof in the beginning of 2022. They served as an important lifeline during the unprecedented time of remote working globally. And even though we are gradually returning back to our offices, video and audio conferencing continues to be more important than ever, serving as a cost-effective way to boost productivity and collaboration.
In addition to their cost-effectiveness, video and audio conferencing technologies offer users flexibility and convenience, allowing them to communicate and collaborate with colleagues and partners regardless of their physical location. As a result, video and audio conferencing tools are anticipated to have a significant impact on the future of work, enabling seamless communication and collaboration between remote and in-office teams and driving digital transformation across industries.
But how can you join the video conferencing revolution in Singapore if a microphone is no longer the only audio conferencing technology you need to have connected to your computer setup?
Stem Ecosystem.
Effortless.
Stem Ecosystem was developed to provide a seamless experience for anyone joining the video conferencing revolution. You have the capability to create your own customised combination of devices, such as a table speakerphone, multi-device hub, and more, all designed to fit your spaces, install in your time frame, and manage with ease.
Let's Break Down The Building Blocks
 Mix and match up to 10 Stem audio devices, and easily create customised coverage in every meeting room so every participant can hear and be heard.
1. Stem Wall
Stem Wall is a high-quality conferencing array equipped with 15 beamforming built-in microphones plus two full-range speakers and subwoofers. In addition to its impressive audio capabilities, the Stem Wall conferencing array offers advanced audio features such as state-of-the-art acoustic echo cancellation and noise cancellation, delivering crystal-clear audio and advanced conferencing capabilities for large conference rooms and other collaborative spaces. Its sleek design and Touch Controller make it a top choice for businesses seeking to enhance their communication and collaboration capabilities.
2. Stem Table
Stem Table is a quality conferencing speakerphone equipped with nine beamforming microphones and an innovative downward-facing speaker for optimal performance. Offering advanced conferencing features such as noise and echo cancellation in a compact and affordable design, it provides clear and reliable communication for small to medium-sized rooms.
3. Stem Ceiling
Stem Ceiling is a microphone array designed to be mounted above a conferencing space. With 100 built-in microphones, it gives you the freedom to customise your coverage with 4 different beam settings: narrow, medium, wide and fencing.
4. Stem Speaker
Stem Speaker is a powerful loudspeaker designed to fill your room with full-range audio. The design of the speaker gives you the option to mount the device on the ceiling, wall or table.
5. Stem Control
Stem Control is a dedicated tablet device that provides easy access to the Stem Ecosystem platform as well as popular video conferencing platforms. It provides users with an intuitive touch interface. Moreover, its integration with the Stem Ecosystem platform enables advanced features such as automatic room optimisation and remote management, making it an excellent tool for optimising communication and collaboration in any workspace. 
6. Stem Hub
Stem Hub is the brain of the ecosystem that networks up to 10 Stem audio endpoints in a room plus with connectivity options including Ethernet, USB Type B, VoIP, pluggable terminal blocks, and Dante (Hub only).
Design Before You Buy. Design Your First Room Today!
Not sure where to start? Check out the Stem Ecosystem RoomDesign Tool, where you can virtually recreate your room, test out the combination of Stem devices and even check the estimated coverage ranges.

Experiment with the device mixes to see what provides the best coverage for your room today!
 Stem Ecosystem RoomDesign Tool
The unique mix of networkable audio endpoints makes Stem Ecosystem a one-stop-shop audio solution that you can design, install and manage all by yourself.
Discover the Stem Ecosystem that gives you the freedom to create, manage, and scale your collaboration space audio exactly the way you want.
And if you're looking to further enhance your collaboration space audio with the Stem Ecosystem, look no further than Shure's wide range of high-quality microphones in Singapore, making it easy to find the perfect fit so that you can speak with confidence. Visit our website to explore our selection and forget searching where to buy microphones in Singapore. With Shure and the Stem Ecosystem, you can create, manage, and scale your conferencing solutions with ease.
---