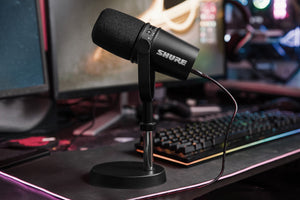 MV7 or MV7X: Which Mic is Right for You?
Podcasting has never been more popular. This audio-driven medium has captured the hearts of millions worldwide, providing an intimate platform for sharing stories, insights, and entertainment.
To cater to the surging demand from podcasters, microphone manufacturers have stepped up their game too. Recognising audio quality's pivotal role in podcasting, a range of specialised microphones has been introduced to the market. These microphones are meticulously designed to capture crisp, clear, and professional-grade audio that adds a layer of authenticity and engagement to podcast content. From dynamic to condenser microphones, USB to XLR connectivity, podcasters now have a diverse array of options to choose from, ensuring their voices are heard with the utmost clarity. This microphone revolution has not only elevated the audio quality of podcasts but has also empowered creators to express themselves effectively and build loyal listener bases.
The Shure MV7 Podcast Microphone Series
The MV7 Podcast Microphone was first introduced to the content creator community. Bursting with a rich array of features and delivering impeccable sound quality, this series has taken the podcasting world by storm.
Are you looking for a powerful podcast microphone, but not sure if you should get the MV7 USB & XLR podcast streaming microphone or the MV7X XLR podcast microphone? Uncertain about the distinctions between these models? We've got the answers to your questions here. 
Let's dive into the features of MV7 and MV7X microphones so you can determine which microphone model is the right one for you.
XLR or USB?: Navigating Connectivity Options
The main difference between these two mics is connectivity. The MV7 has both an XLR audio output and a USB port to plug straight into a laptop or desktop. This makes it ideal for content creators who record solo without an audio interface. 
The MV7X, on the other hand, exclusively offers XLR connectivity. It is a more affordable choice for someone who is looking to upgrade their recording rig or set up multiple mics at the same time. Do you have a podcast with several guests? You may want to consider the MV7X. To connect it, you will require either an XLR-compatible digital recorder or an audio interface to connect to your computer. 
Voice Isolation Technology: Clear Voice in any Setting
Both mics are designed to keep the focus on your voice while blocking out any distractions. Embedded with Voice Isolation Technology, these microphones excel in reducing ambient room sound, ensuring your recordings remain unaffected by external noise. Now you can have perfect recordings in imperfect rooms. 
Check out this video by Shawne Koh, a travel filmmaker, vlogger and storyteller from Singapore. He recorded some voiceovers with the Shure MV7 microphone with the Manfrotto Stand!
Perfect for Music Makers
We shared a lot about how great the MV7 is for podcasting and voiceover work, but it's also an impressive microphone for vocal tracks! With its similar frequency response emphasising vocal clarity, the MV7X is a great choice for music-making creators already using an XLR setup. 
Check out this song by Zerlene 鄭潔伶, recorded using an MV7 mic.
Better Together: Seamless Compatibility
The MV7 and MV7X complement each other seamlessly, presenting an optimal duo. The flexibility to combine these two outstanding microphone models is at your disposal. If you already have an MV7 with USB compatibility, adding an MV7X to your gear locker means you'll be prepared for every scenario. You won't have to waste time in post-production trying to get your mics to sound consistent. You can also use the MV7's USB and XLR outputs simultaneously, enhancing your recording versatility!
Empower Your Voice with Shure Microphones in Singapore
In the ever-evolving landscape of content creation, having the right tools is paramount. The Shure MV7 and MV7X microphones stand as a testament to this, offering Singaporean podcasters and creators an avenue to elevate their audio quality to professional levels. With a choice between USB and XLR connectivity, these microphones cater to diverse needs. 
Whether you're a solo podcaster seeking seamless USB microphone recording or a multifaceted creator aiming for XLR versatility, Shure's range of microphones in Singapore has you covered. Say goodbye to subpar sound and welcome in a new era of crystal-clear audio. As the realm of podcasting flourishes, these microphones ensure that your voice resonates with clarity and authenticity, reflecting the heart of your content to a global audience. 
Experience the power of precision and explore the world of
podcast microphone
excellence in
Singapore
with
Shure
.
---