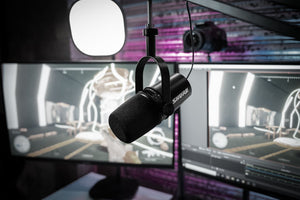 Unleashing Your Authenticity with the Shure MV7 Podcast Streaming Microphone in Singapore
 Are you ready to take your streaming or podcasting endeavours to the next level? Don't let the multitude of streamers out there discourage you from embarking on your very own streaming or podcasting ventures. With the right equipment, you can amplify your authenticity without any hassle. 
Of all the top Shure microphones worthy of being owned, let Shure MV7 Podcast Streaming Microphone convey your unbridled emotions vividly with all the functions you can dream of. Get ready to make an unforgettable impression and captivate your audience in your own unique way.
Importance of Investing in a Professional Microphone in Singapore
In today's digital landscape, high-quality audio quality is expected and is being viewed as the norm rather than an exception. This means that when audiences engage with content, they seek top-notch audio that immerses them in the experience. Regardless of whether you are using your microphone as a podcast microphone or a streaming microphone, good audio quality has become a prerequisite for all content creators. It not only enhances the overall viewing experience but also contributes to establishing one's legitimacy and credibility too. 
Therefore, as a content creator, selecting the best professional microphones is paramount to meeting these expectations and elevating your audio quality to new heights. As such, never compromise on the auditory impact of your content—invest in a professional microphone that will capture every nuance and ensure that your voice resonates with clarity and precision.
This is where the ultimate USB podcasting microphone — the Shure MV7 Microphone — comes into the picture.  
A Vocal Microphone That Does the Heavy Lifting.
In the past, recording one's own music or content often required a visit to a professional recording studio to access a professional microphone. However, thanks to technological advancements, many artists and content creators can now achieve professional-grade recordings from the comfort of their own homes. Shure has harnessed this technology to engineer our recording microphones, offering exceptional quality and convenience.
Inspired by the legendary SM7B Dynamic Vocal Microphone, the MV7 Podcast Microphone combines dynamic performance with versatility. With both USB and XLR outputs that enable either digital or analog recording, this microphone is compatible with computers as well as professional interfaces, making it convenient for all users. By connecting this microphone via USB, you can unlock additional set-up features and leverage the power of the ShurePlus™ MOTIV app. From there, take control of your vocal tone and adjust the microphone's distance with ease. And with the help of the Auto Level Mode, you can let the USB Microphone do the heavy lifting, ensuring optimal audio levels effortlessly. 
Now a Zoom-certified, award-winning microphone, the MV7 Podcast Streaming Microphone is equipped with a highly directional dynamic element and advanced voice isolation technology, ensuring exceptional recording quality. Additionally, for seamless monitoring during recording sessions, the MV7 features a built-in headphone output. This allows for direct headphone monitoring, enabling you to hear your recordings in real-time and make necessary adjustments with confidence. 
With the MV7 Podcast Streaming Microphone, you can trust that your recordings will be of the highest quality, providing an immersive and professional experience for your audience. Experience the convenience and professional sound quality of the Shure MV7 Podcast Microphone and take your recordings to new heights!
Is it Worth Getting a USB Microphone?

MV7 USB & XLR Podcast Streaming Microphone
There is a portion of individuals in Singapore who prefer using a headset to a USB microphone. This preference is especially common among gamers who find the convenience of a single device for both speaking and listening compared to having separate devices. Perhaps this is also the reason why it is rather uncommon to find a desktop microphone for gaming.
While USB microphones may be bulkier in size compared to headsets, they offer superior internal components that elevate the quality of voice-overs and podcasts. With a USB microphone, you can expect enhanced voice clarity, reduced background noise, and an overall higher-definition audio capture. These obvious benefits make USB microphones a worthy investment for content creators seeking unparalleled audio excellence.
So, don't compromise on audio quality—choose a USB microphone that brings your recordings to life, ensuring your voice shines with crystal-clear clarity and precision. Elevate your content and immerse your audience in a world of exceptional sound with a USB microphone that delivers professional-grade results!
Where to Buy Microphone in Singapore?
Sourcing for a recording microphone in Singapore can sometimes be a hassle. Thankfully, you can find the MV7 USB & XLR Podcast Streaming Microphone easily online at Shure Shop. We also have a wide range of podcasting microphones for you to take a look at as well. 
To get started, check out our guide on how to choose the right microphone in Singapore, the best microphones for podcasting and the top 3 Shure microphones to buy in Singapore.
---