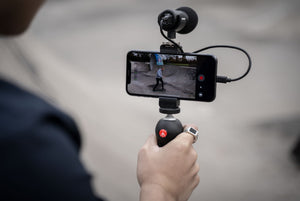 Portable Microphone with Shure MV88+ Video Kit in Singapore
Portable Recording with Shure MV88+ Video Kit
When you have the courage to follow your dream of being a creator, age is no longer an obstacle. Let technology level the playing field and free yourself even at 68 years old. Shure MV88+ Video Kit makes shooting easy and realistic audio recording a breeze. Capture your surroundings as if you were there again and again. It's not the wrinkles that matter, it's the moments your inner light shines through.
Portable Recording Microphone in Singapore

One of the more common concerns content creators have about a professional microphone is if and how they can put it to use outdoors. This is because studio microphones commonly found in Singapore usually come in a certain size, which can be rather bulky to take around. This can no doubt be an inconvenience, especially if you are a travel content creator.
Having that in mind, Shure engineered the MV88+ Stereo USB Microphone to cover every recording need, even when you are outdoors conquering all that nature throws your way. Whether you are a musician capturing vocals, drums, guitars and everything in between; the MV88+ is the Swiss Army knife of microphones enabling you to record in mono or stereo. The best part of it all is that it is a portable recording microphone that you can take with you on your outdoor adventures and travels and still capture the sharpest of audio qualities. This makes lives and content creation a lot easier as a whole.
Complete Professional Microphone and Videography Kit
The MOTIV MV88+ Video Kit comes together with the MV88+ multi-directional iPhone mic, a Manfrotto® PIXI tripod, phone clamp and mount, as well as iOS and USB-C cables for next-level compatibility and connectivity. That is not the end of it! The video kit also includes the SE215 Sound Isolating™ Earphones to take care of your monitoring headphones needs, and the AMV88-Fur Windjammer to reduce any unwanted wind noise when recording outdoors. Essentially, you have got a complete rig for professional recording and monitoring on the go with this video kit.
With the help of this videography kit, you will not only have a professional microphone revered by content creators but will also not have to worry or panic if you are missing out on any tools to kickstart your content creation journey. We're certain that this is the all-in-one package that would become your trusted companion throughout any journey you plan on taking.
What is the Benefit of Getting a USB Microphone?

MOTIV MV88+ Stereo USB Microphone
A USB microphone offers convenience as you can easily plug it into your desktop to use it instantly. This is especially useful for bloggers, videographers and content creators as they can toggle the usage between indoors as well as outdoors without having to worry about cables and/or compatibility of their devices.
Furthermore, the MV88+ Stereo USB Microphone easily integrates with the free ShurePlus™ MOTIV™ Mobile and Desktops Apps. This enables the user to enjoy the flexible configuration of this microphone from within the app itself. Ultimately, the objective of such a USB microphone is to provide users with convenience, flexibility, functionality and quality both indoors as well as outdoors.
Where to Buy Microphone in Singapore?
Sourcing for a recording microphone in Singapore can sometimes be a hassle — we've all been there. Thankfully, you can find the MOTIV MV88+ Stereo USB Microphone easily on our Shure Shop. We have also curated a MOTIV MV88+ Video Kit for those who require the entire setup to commence their content creation journey.
So, what are you waiting for? Check out our range of professional microphones in Singapore and let the adventures begin!
---