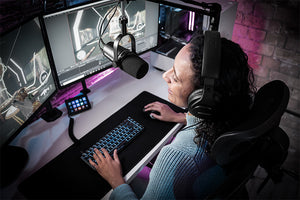 Professional Microphones for Singapore Content Creators
Vlogging, live streaming, as well as podcasting, are some of the most popular ways for content creators to showcase their creativity. However, as with any career in the media industry, one will have to produce new and interesting content consistently to engage viewers and gain a larger following. All things considered, there will still be challenges besides the need to find creative ways to keep up with the competition; one of which is the ability to have top-quality audio recordings to showcase your creativity.
Therefore, it is vital that all content producers such as podcasters, live streamers, video content producers, as well as singers and musicians are equipped with the best in audio recording equipment. And should you be wondering where to buy professional-grade microphones in Singapore, we are here to help you with it.
"It's more than just a recording microphone."
To help you make the right decision when buying a microphone for recording purposes, we have developed an easy-to-follow guide that will help you decide which professional grade microphone from Shure is best suited for your specific requirements. Otherwise, you can read on to find out more about our range of recording microphones and discover which are the ones that will suit your content-producing needs.
Podcasting
Many Singapore podcasters rely on Shure's podcast microphones for their unparalleled audio quality. One of these includes the MV7 Podcast Microphone with its multi-directional dynamic element and voice isolation technology. Our legendary SM7B Cardioid Dynamic Vocal Microphone also produces music and speech that is exceptionally clean and natural due to its dynamic cartridge with a smooth, flat, and wide-range frequency response. Both of these microphones will bring your voice recordings to life and make them sound extraordinary!
Gaming & Live streaming
From gaming and esports to virtual music jams, live streaming is now a global phenomenon. Even if you are just chatting with your fans, your fans will be expecting quality audio when engaging with you. And with Shure's gaming microphone, your streaming will be a success! Get broadcast quality audio with our legendary SM7B Cardioid Dynamic Vocal Microphone or highly rated MV7 Podcast Microphone today! The former enhances the finer details of the human voice by blocking out all the background distractions while the latter is ideal for both professional and home recording studios.
Vlogging
Whether it's a challenging location shoot, or a room filled with heavy background noise, recording quality audio is never impossible when you own Shure microphones. For Vlogging and YouTube videos, a quality microphone will turn your production recording into an amazing showcase of your creativity. This is where the Shure MV88+ Video Kit shines. With its multi-directional microphone, Manfrotto® PIXI tripod, phone clamp and mount, as well as iOS and USB-C cables for next-level compatibility and connectivity, your smartphone can be instantly converted into a professional-level mobile audio and video recording studio. Besides the AMV88-Fur Windjammer that reduces unwanted wind noise when recording outdoor, this video kit also comes with the ShurePlus MOTIV Audio or Video App whereby content producers can easily configure the MV88+ and select from various pick-up patterns for the microphone to use for recording.
Buy the Best Microphones in Singapore
 Ask any content creator for their best tips for creating top-notch content, and having the right microphone at hand is sure to make the list. For all types of content creation and recording here in Singapore, browse the Shure collection to find out more about our range of premium professional microphones.
For more tips, check out our live streaming handbook and our top three tips on live streaming!
---