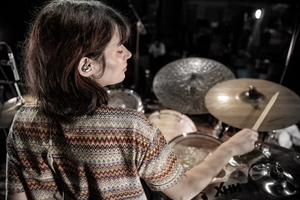 Advantages of Wired Earphones: Why They Remain a Classic Choice
AONIC 3 Sound Isolating Earphones
In this era of wireless and smart devices, it's easy to get caught up in the allure of Bluetooth technology and wireless earphones. However, wired earphones continue to hold a special place in the hearts of many individuals and audiophiles. This is probably because they offer a classic and timeless listening experience that sets them apart from their wireless counterparts. But why is it that this type of earphone is the preferred choice for so many?
We will be exploring some of the more common benefits of wired earphones and why they continue to reign supreme in a world dominated by convenience-driven wireless options. Discover why wired earphones are more than just a nostalgic choice—they offer a host of advantages that enhance your music-listening experience.
1. Better Sound Quality

In the pursuit of impeccable sound, wired earphones still hold the upper hand over their wireless counterparts. While wireless earphone technology has made significant strides over the years, it is still unable to match the superior audio quality offered by wired earphones, thanks to their utilisation of analog signals.
Analog signals have a higher capacity to handle data than digital signals like Bluetooth. In layman's terms, this simply means that when using wired earphones, your audio bypasses extensive processing before reaching you. Thus, they can skip past audio compression and ensure that the sound is delivered in its truest, full-resolution form.
Moreover, advancements in technology have given rise to sound-isolating earphones and noise-cancelling earphones. These innovative designs employ ergonomically crafted physical barriers or a specialised system of components to block out ambient noise and provide a more immersive listening experience. Say goodbye to unwanted distractions and immerse yourself in the pure, uninterrupted sound that wired earphones deliver!
2. More Affordable
SE215 Professional Sound Isolating Earphones
Wired earphones in Singapore typically cost lower compared to wireless ones. This is due to wireless technology being more expensive to develop and manufacture. Additionally, wired earphones offer the advantage of being easily repairable, thanks to the availability of readily accessible replacement parts. This makes them a more budget-friendly choice in the long run.
3. More Compatibility with Devices
One key advantage of wired earphones is their broad compatibility with various audio devices. This is especially so since the 3.5 mm headphone jack has always been a universal standard for many modern audio devices, providing users peace of mind. Unlike wireless earphones that rely on Bluetooth technology, with this feature, wired earphones can be effortlessly connected to various devices without compatibility concerns.
With that being said, it is also important to take note that there are certain brands that have deviated from the traditional headphone jack, opting for different types of connectors or omitting the jack altogether. This means that the plugs of the wired earphones are only compatible with some devices on the market today. As such, it's essential to consider the compatibility of wired earphones with your preferred devices to ensure seamless integration and uninterrupted listening experience.
4. Ease of Use

AONIC 4 Sound Isolating Earphones
Wired earphones are extremely easy to set up. All you have to do is to plug them in, and you are all set to go. Once you hit play, the sound seamlessly flows through the earphones, delivering your favourite tunes directly to your ears.
This plug-and-play setup reduces the risk of any unwanted wireless interferences and eliminates the need for pairing with Bluetooth devices. Considering these factors, wired earphones are undeniably more user-friendly than wireless ones.
So are Wired Earphones Better?
Both wired and wireless earphones have their pros and cons, so it really comes down to personal preferences and priorities.
For those of you who prefer freedom of movement and a wire-free experience, then perhaps a wireless option would be more suitable to your needs. You can check out the AONIC 215 True Wireless Sound Isolating Earphones. Delivering premium sound quality, outstanding comfort, and a secure fit, the AONIC 215 Wireless Earphones also comes with Bluetooth® 5 wireless technology and a detachable cable option.
As for those of you who want more compatibility and perhaps better affordability, then check out our classic SE215 Professional Sound Isolating Earphones. They are highly regarded as our most popular wired earphones, offering exceptional sound isolation and quality. 
If you are still undecided about whether to go wired or wireless, fret not. With the Shure True Wireless Secure Fit Adapter, you have the flexibility to transform your detachable earphones into a truly wireless one, combining the best of both worlds.
Still on the fence about which to choose and not sure where to begin? Check out our guide on the 3 benefits of owning a pair of Shure wired earphones in Singapore, as well as our exploration of the key differences between earphones and headphones, to get started on your wired earphones shopping journey in Singapore.
While you browse our collection of wired earphones, don't forget to take a look at all of our other items listed in our flagship Shure Shop. Beyond our noise-isolating earphones, we have a wide range of other audio products, from microphones to earphones and professional headphones, easily accessible in Singapore.
---