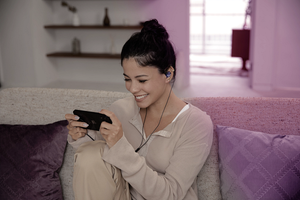 3 Benefits of Owning a Pair of Shure Wired Earphones in Singapore
SE215 Professional Sound Isolating Earphones
Let's face it — the world of earphones and audio devices can be a tad bit complicated to navigate. But if you've already set your heart on a pair of wired earphones and have brought yourself here, to our Shure store, we're sure you might be wondering what benefits you'll be able to reap by taking a pair home. Perhaps you are still on the fence about whether a pair of Shure wired earphones are even the right match for you. Well, fret not! Here are the top 3 benefits of owning a pair of Shure sound isolating wired earphones.
1. Quality Wired Earphones
With a history of audio innovation that began in 1925, Shure has turned a passion for making great microphones and audio electronics into an obsession. This is why Shure continues to set the worldwide industry standard for these devices.
Shure is not just a company of engineers, but also a company of performers, artists, presenters, concert-goers, and sometimes, fans. Hence, we understand the butterflies before going on stage, starting a critical conference call or the joy of listening to your favourite music. Shure also understands what you're going through and what you need to make these experiences a breeze, and at times, unforgettable.
This is why we choose to be right there by your side in every moment that matters — large and small. Shure's wired earphones are designed to outlast, out-perform, and out-engineer the competition. They're not created to just be "OK". Our range of wired earphones is built to be the very best. Every Shure product also comes with a limited warranty for a period of one or two years from the original date of purchase, so you can rest assured that you'll only be able to revel in the best quality audio experiences.
2. Sound Isolating Earphones Technology


SE846 Gen 2 Sound Isolating Earphones
Shure has developed the best-fitting, sound isolating earphones; in-ear monitors (IEMs) that musicians worldwide demand and consumers love. Taking audio to the next level, on every level, Shure Singapore's range of noise cancelling wired earphones gives you unparalleled access to sound for an unmatched experience.
So what exactly are sound isolating earphones? They are in fact similar to normal wired earphones with an added feature/functionality that enables the user to insert them deeper into the ear canal. Sound isolating earphones also have this additional component known as the "tip". The "tip" is typically made from silicon or foam, which forms a seal in the canal. This allows sound to be isolated within the ear while passively blocking out external noises. 
3. Detachable Wired Earphones
At Shure, we engineer all of our wired earphones to be detachable so that you can convert them easily into true wireless ones with the help of the True Wireless Secure Fit Adapter. While there is undoubtedly a long list of advantages that come with owning a pair of wired earphones, this flexibility makes things a lot more convenient. At the same time, you will still be able to hang on to your favourite pair of earphones, regardless of whether you wish to transform it from a wired to wireless pair.
Recommendations for Sound Isolating Earphones

SE215 Professional Sound Isolating Earphones

Considering that there are many sound isolating earphones available on Shure, here are some of the ones that have been launched recently.
1. SE215 Professional Sound Isolating Earphones
To begin with, is the SE215 Professional Sound Isolating Earphones. This classic pair of sound isolating earphones has always been our best-seller. Even though it has been around for a decent amount of time, it still gets the job done. Recently, Shure decided to add a new colour to the range, which was selected based on a global public vote. Introducing the SE215 Professional Sound Isolating Earphones in Purple!
 2. SE846 Sound Isolating Gen 2 Earphones
For a more premium experience, Shure has recently launched the SE846 Wired Sound Isolating Gen 2 Earphones as well, which is an upgrade from the SE846 Wired Sound Isolating Gen 1 Earphones. It provides extended high-end clarity and unparalleled low-end performance for a state-of-the-art listening experience through four high-definition drivers. A favourite among professional musicians due to the customisable sound signatures, get a pair of these and never again sacrifice clarity or detail while listening to your favourite tunes.
Browse a Wide Range of Sound Isolating Wired Earphones
From noise cancelling earphones to sound isolating earphones, finding the right pair of wired earphones in Singapore to ensure you're always on the receiving end of a top-notch listening experience can be a tricky feat. So, to get started, why not check out our guide on the differences between earphones and headphones before diving head first to browse our selection of the best Shure wired earphones?  
Whether it's an earphone that offers detailed sound with enhanced bass for personal listening or our other iconic, state-of-the-art sound isolating earphones that deliver extended high-end clarity, take your pick on Shure!
---