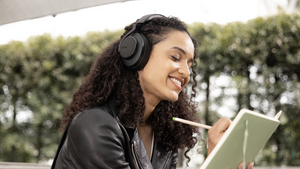 AONIC 50 Gen 2 Wireless Noise Cancelling Headphones
Shure has unveiled its high anticipated AONIC 50 Wireless Noise Cancelling Headphones Gen 2. Designed to captivate music enthusiasts and discerning audiophiles alike. The second generation sets a new standard for premium, high-fidelity audio, enhanced active noise cancellation, and more than double the battery life of the first generation, with up to 45 hours of runtime.
With customizable EQ features and new hybrid active noise cancellation technology, users can tailor their unique preferences using the free ShurePlus™ Play App for a personalized audio experience. 
What's set the AONIC 50 Gen 2 apart is its's new spatialized audio technology, powered by a proprietary algorithm, designed using a combination of acoustical modeling and critical listening to delicately enhance the spaciousness without compromising the original audio. This feature provides three distinct modes—Music, Cinema, and Podcast:
Music Mode: enables users to experience listening through high-end speakers and is the most subtle, maintaining the original source material.
Cinema Mode: emulates the low frequency excitement that users experience in a theater that employs subwoofers for an immersive, larger-than-life sound through clarity, presence, and natural sounding dialogue.
Podcast Mode: brings the voice of a user's favorite podcast host closer to their ears.
It also has a new hybrid active noise cancellation technology, improving on the performance of the earlier generation and more effectively eliminating external distractions, enabling a truly immersive and natural listening experience. By using microphones inside and outside the earcup, the AONIC 50 Gen 2 offers users the ability to fine-tune their auditory environment, effortlessly controlling the level of ambient noise. Featuring four selectable modes—Light, Moderate, Max, and MaxAware—the new MaxAware setting strikes the perfect balance between blocking unwanted noise and maintaining awareness of your surroundings, making it ideal for on-the-go conversations.
The AONIC 50 Wireless Noise Cancelling Headphones Gen 2, is available now in Black in Shure Shop and select retailers. Purchase includes a two-year warranty, protective zippered carrying case, 3.5mm audio cable, and a USB-C charging/audio cable.
---