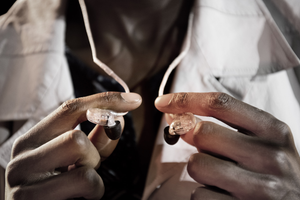 How Do Sound Isolating Earphones Work?
SE215 Professional Sound Isolating Earphones
Aside from choosing between a pair of wireless or wired earphones, there are other factors and features of a pair of earphones to take into consideration as well. One of these would be to decide if a pair of sound isolating earphones or noise isolating earphones would suit your needs. But what exactly is this sound isolating technology and how does it actually work? Let us delve deeper into this specific feature that many wireless and wired earphones in Singapore (including Shure) have incorporated.
What are Sound Isolating Earphones?

Sound isolating earphones are in fact normal earphones that allow the user to insert them deeper into the ear canal. They also have this additional component known as the "tip" which is usually made from silicon or foam, which forms a seal in the canal. This allows sound that is being emitted out of the earphone to be isolated within the ear while passively blocking out external noises.
What is Passive Blocking?
The term, "passive blocking" simply means that there are no other electronic devices involved in the reduction of the noise. To give you an example, it is the same way conventional earplugs work. This means that upon plugging them into your ears, they would block out the external noise without the need for any other devices or technology. As such, in sound isolating earphones, the combination of passive blocking along with the audio from the earphones would provide you with a superior sound experience.
Advantages of Sound Isolating Earphones
SE846 Gen 2 Wired Sound Isolating Earphones

There are a couple of advantages that sound isolating earphones can offer to the listener. The first is more of a long-term safety advantage. Because of sound isolating technology, the user would not need to increase the volume of their audio just to drown out the external noises. This contributes to greater safety for their ears, especially in the long run.
Another advantage is the enhancement of the bass and low-end frequencies of music when there is a good seal between the silicone or foam tips of the earphone. This would contribute to a warmer and more natural sound.
Not to mention that since sound isolating earphones do not require external batteries, the user need not be worried about large or bulky battery compartments. It also takes away the concern of costly battery replacements after long periods of use.
Recommendations for Sound Isolating Earphones

AONIC 5 Sound Isolating Earphones
Considering the fact that there are many sound isolating earphones on the market today, here are some of the ones Shure has to offer.
1. SE215 Professional Sound Isolating Earphones
To begin with is the SE215 Professional Sound Isolating Earphones. Having evolved from personal monitor technology that has been road-tested by pro musicians, this classic pair of sound isolating earphones has always been our bestseller overall in the Shure Shop. Even though it has been around for a decent amount of time, it still gets the job done.
2. AONIC 215 True Wireless Sound Isolating Earphones
For those who might not prefer a pair of wired earphones, fret not because we also do have the AONIC 215 True Wireless Sound Isolating Earphones. Built to feature the same design musicians use for in-ear monitoring on-stage, these earphones provide you with the same sound isolating benefit on top of being wireless.
3. AONIC 5 Sound Isolating Earphones
We also have earphones targeted at audiophiles who are looking for remarkable sound along with clean, natural bass through three high-definition balanced armature drivers. The AONIC 5 Sound Isolating Earphones is one of our wired earphones that can deliver a truly cinematic audio experience.
4. SE846 Gen 2 Wired Sound Isolating Earphones
And lastly, let us not forget our next generation premium SE846 Gen 2 Wired Sound Isolating Earphones that deliver unparalleled audio through four high-definition drivers. Customisable frequency response with new 4th sound signature puts you in control of your audio experience. Despite its higher price point, it is still a favourite among professional musicians due to its customisable sound signatures.
Browse a Wide Range of Sound Isolating Earphones
From noise cancelling earphones to sound isolating earphones, finding the right pair in Singapore to have an unforgettable audio experience can be a tricky feat. So, to get started, why not check out our guide on the differences between earphones and headphones before diving head first into our piece on why you should own  Shure sound isolating earphones?  
Whether it's an earphone that offers detailed sound with enhanced bass or our other iconic sound isolating earphones, take your pick on Shure!
---