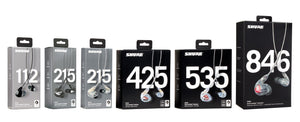 Top 3 Reasons to Own a Shure Sound Isolating Earphone
With technology advancing at such a rapid pace, the audio industry has seen competition heat up, especially in terms of noise cancelling as well as sound isolating earphones and earpieces. Despite strong competition in this area, Shure continues to be consistently ranked as one of the highly coveted sound isolating earphone brands. This is mainly due to the innovative and cutting-edge sound isolating technology that we have adapted into our audio products such as our earphones.

As a consumer-oriented brand, we understand that every individual has their own perception of what qualities a good sound isolating earphone should possess and what they would want out of it. Therefore, here at Shure, we have come out with a wide range of options to enhance your aural experiences so that they will Sound Extraordinary. With that in mind, here are three good reasons to own a Shure sound isolating earphone. Let us take your audio experience to the next level.
1. Eliminate Distractions with Sound Isolation™ Technology
Shure's sound isolating earphones work in a similar way like earplugs. Upon fitting them, you'll immediately feel the comfort of the earphones' soft pliable sleeves fitting snugly within your ears. Apart from comfort, these sleeves also help block off external noises from entering. Just like earplugs, having the right fit for your sound isolating earphones is essential, which is why we have provided multiple sleeve sizes for all our sound isolating earphones and earpieces so that you can find the best fit for your ears.

In comparison with the circuitry found in noise cancellation earphones, sound isolation provides greater noise reduction. Research conducted at Virginia Tech some years ago also established that Shure earphones performed significantly better as compared to other noise cancelling earphone brands. But what is the difference between sound isolation and noise cancellation? Seeing that many segments in the industry have used these two terms interchangeably. To understand the differences between the two forms of technology you can read this article that states the stark differences between noise cancellation and sound isolation.
2. Transform Any Detachable Sound Isolation™ Earphones into True Wireless
With our second-generation Shure True Wireless Secure Fit Adapter, you can now experience exceptional comfort, a secure fit, and water resistance, along with an immersive, world-class listening experience wherever you go. No longer do you have to put up with the messy cables of your wired earphones. 

The secure, over-ear fit feature of our second-generation Shure True Wireless Secure Fit Adapter also ensures that your earphones stay in place for unmatched, long-wearing comfort even during high-energy activities. With a battery life of up to eight hours, you can go about your daily routine with uninterrupted audio. If eight hours is insufficient, we have also included a carrying case in which an additional three charges can be made to your sound isolating earphones for a total of up to 32 hours battery life on-the-go.
3. A Compact and Portable Earpiece Whenever, Wherever
Here at Shure, we have engineered all our earphones and earpieces in such a way that they can be easily tucked away in the carrying case provided. The soft-zip case is also a tangle-free solution to store and travel around with your sound isolating earphones.

With this solution, you no longer need to worry about the inconvenience of messy cables caused by wired earphones nor worry about taking them out due to bulkiness. Here at Shure, we believe in enhancing your listening experience in the best way possible without compromising on your convenience.
We've Got You Covered

We're right there by your side in every moment that matters – small or large. Our sound isolating earphones products are designed to outlast and outperform the competition. Our products are not created to be just ok; we've built them to be the very best.
---