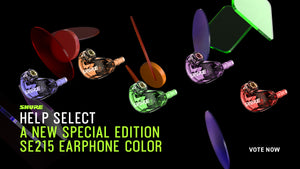 A Special Edition SE215 Earphone Color Announcement

SE215 Professional Sound Isolating Earphones
You Voted and Decided that our SE215 Special Colour Edition would be none other than PURPLE! With 29% of the overall vote across 60 countries, Shure fans from around the world have spoken.
Thank you everyone for participating and voting, we truly appreciate it. Do subscribe to our newsletter to be one of the first to hear about the launch of this special edition colour set. In the meantime, learn more about the SE215 below.

Big Sound in a Small Package
The SE215 Professional Sound Isolating™ Earphones provides you with clear sound and deep bass through a single, high-definition driver. Aside from that, the Sound Isolating™ design is capable of blocking up to 37 dB of outside noise so that you can hear the details of your music.
Shure has also engineered the SE215 with an over-the-ear design to ensure that they continue to stay in place whenever you are on the go while the cables are still being kept out of the way. This results in unmatched, long-wearing comfort for all.
In the package, you will also find a zippered compact carrying case and fit kit with selection of sleeves. This allows you to take your SE215 anywhere with you.
 
What is Sound Isolating Technology?

SE215 Professional Sound Isolating Earphones
Sound isolating technology works passively, similar to that of earplugs. The soft pliable sleeves that comes along with every pair of Shure earphones are meant to fit snugly into the user's ears and physically block any external sound from entering the ear.  Just like earplugs, the fit is very important and that is also the reason why Shure provides a multiple selection of sleeves with all of our earphones so that you can find the best fit for your ear.
Sound isolating technology actually provides users with a better noise reduction as compared to noise cancellation circuitry. Another key feature of sound isolation is that it works across the entire audible spectrum, not just the lower frequencies and the slow, droning kinds of noise. This technology is ideal for blocking speech, television or music – it works in all kinds of environments whether you are sitting on a plane, a train or just walking down the street. In fact, a study at Virginia Tech concluded that Shure earphones performed significantly better than other brands when they were measured head to head.
Where Can I Buy a Pair of SE215?
If you are looking to add the SE215 Professional Sound Isolating Earphones to your collection, then feel free to check them out on our Official Shure Shop. They have always been an all-time favourite among our customers and also the top seller in our shop.
When Can I Buy the Special Colour Edition?
We will be starting production soon for your chosen special colour edition of the SE215. At the moment, it is scheduled to be released later this year. Once they are available, we will be putting them up here for you to make purchase. So do subscribe to our newsletter to stay up to date with the latest news!
In the meantime, you can take a look at all the rest of our Wired Earphones collection. Perhaps you might find something of interest. On a side note, all of our earphones are engineered with the Sound Isolating Technology as well, so you will definitely be getting an enhanced audio experience regardless.
---