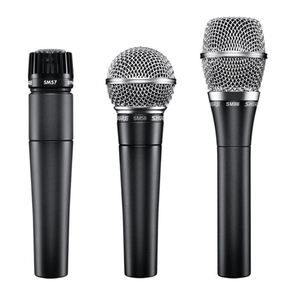 3 Shure Microphones to Buy in Singapore
3 Shure Vocal Mics that Have Stood the Test of Time in Singapore
Shure began the development of their very first microphone back in 1931. A year later, in 1932, it was launched in that market. Back then, this launch made Shure one of only four manufacturers of microphones in the United States.
Through precision engineering along with the help of modern-day technology, Shure has continued to evolve constantly and help empower users with extraordinary sound. With strong roots in the audio industry, many professionals as well as consumers turn to Shure for top-level microphones to take things to the next level. Therefore, if you are all for immersing and inspiring yourself with amazing sound experiences and are not sure where to buy microphones in Singapore, look no further than Shure. 
Every icon has their own story — so, get ready to tell yours with our selection of professional microphones in Singapore. Here are 3 Shure mics that have stood the test of time and continue to be trusted till today.
The Classic Revolution – SM58 Vocal Microphone
The one that you will never go wrong with is our classic SM58 - LC Cardioid Dynamic Vocal Microphone. In fact, this is also the most popular performance microphone in Singapore and beyond. Many professionals would easily recognise the SM58 vocal mic as it is widely used among musicians, emcees and even newscasters. In recent years, this vocal microphone has also grown in popularity among live streamers and podcasters.
As Shure constantly pays attention to the market and industry needs, we have come up with an updated model of the SM58 vocal mic called the SM58S. In addition to its ability to reproduce every note as it was intended, this new model comes with an on/off switch to help make lives a lot easier for professionals and consumers.
The Vocal Assistant – SV100
Since its inception back in 2010, the SV100 vocal mic has been a trusted dynamic cardioid vocal microphone that helps in reducing feedback while delivering excellent sound quality. Some of the more popular functions of this mic include karaoke, sound reinforcement as well as recording applications. With a wide frequency response, unidirectional pickup pattern and high output, it ensures that vocal performances sound clear and vibrant.
Just in case you are wondering what the key difference is between the SV100 and SV200 mics, the SV200 includes a dent-resistant ball grill. This enables it to deliver a more clear, crisp and vibrant sound.
The Performer's Choice – PGA58
Regardless of whether you are a lead or backup vocal performer, a quality microphone is still necessary to empower your live stage presence. This is the reason Shure developed the PGA58 mic back in 2015 and specifically designed this microphone for use in professional settings. The industrial design featuring a black metallic finish and grille provides an unobtrusive visual presence that subtly stands out in its own unique way. Shure also took it a step further in terms of quality construction to ensure exceptional performance even in rigorous environments. With features such as tailored microphone cartridges, discrete controls and updated industrial designs, buying this microphone is sure to deliver an unrivalled experience for all in Singapore and beyond.
Which Mic Should You Buy in Singapore?
Aside from the various mics we have introduced in this article, Shure still has an even wider selection of microphones in Singapore for you to choose from. Perhaps the best way to go about your search is to first identify your needs and the purpose of the mic. Once you have that in mind, you will have a clearer idea of the direction to commence your search. Other factors you may wish to consider can be budget, connectivity and frequency range. For more tips on how to navigate the expansive world of microphones in Singapore and buy the right one for you, check out our articles on the differences between dynamic and condenser microphones and the best way to choose the right microphone in Singapore. 
Shure believes in inspiring and empowering every performer, artist, presenter and so forth through flawless sound experiences. We Get It, We Got You, You Got This.
---