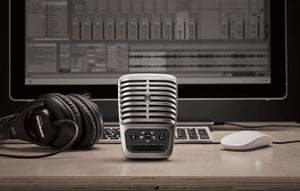 Capture Vivid Sounds with the Shure MV51 Digital USB Microphone in Singapore
ASMR Recording with Shure MOTIV MV51 Digital USB Microphone
Who would have thought that an introvert would be sitting in front of hundreds of thousands everyday. ASMR captivated MYNTP ASMR, a YouTuber, from the beginning and now she wants to bring this happiness to others. And how does she plan on doing so? With the MOTIV™ MV51 iOS and USB Microphone, that is! Designed to capture vivid sounds with its automatic adjustment function, this professional microphone can help you overcome and go beyond voices of doubt.
So, let's discover sounds of happiness.
Professionalism Lies in the Details
Every single sound matters, so let each audio input inspire you to create something entirely unheard of. You can capture them all with the powerful MV51 USB Microphone and use it to amplify your creativity.
The MOTIV MV51 Digital USB Microphone is recommended for ASMR creators and sound designers looking to capture detailed audio. It might appear small in size, but it definitely does not compromise in terms of sound quality. Why? Because the unparalleled audio and simple touch panel controls make the all-metal MV51 the go-to digital USB microphone. You can enjoy sound excellence from demo sessions to field recordings.
Aside from ASMR creators and sound designers, this professional microphone is also a favourite among content creators like podcasters, streamers and even musicians. These individuals turn to the MOTIV MV51 USB Microphone as they are confident in the sound being produced from it.
Create a Professional Home Studio
A professional recording studio is usually where most artists and musicians would head to if they wish to put out a new single or album. With the help of modern-day technology, Shure has made it possible to create such recordings from the comfort of one's own home studio.
With the compact MOTIV MV51 Digital USB Microphone, you can enjoy five preset audio modes (speech, singing, flat, acoustic instrument and loud). These variable settings allow you the flexibility of recording an intimate monologue at home or a metal band at a club by simply tapping the touch panel.
This is a great way for new and upcoming musicians to get their music (in studio quality) out to the public without worrying too much about the cost involved in renting or building their own professional recording studio.
Pair with the MOTIV Audio App
The ShurePlus MOTIV audio app gives you the ability to record studio-quality audio and more. With just a few taps, you would be able to trim and share the recorded audio in multiple formats. ShurePlus MOTIV app also enables recording at 24 bit / 48 kHz as well as manual adjustments to limiter, compressor, and five band EQ.
With the help of the app, you would be able to edit your recordings from the MOTIV MV51 Digital USB Microphone further and to your liking. This makes it a lot more convenient for the user.
Where to Buy Microphone in Singapore?
If you are looking for a digital USB microphone in Singapore, the MOTIV MV51 Digital USB Microphone is one that you can rely on to capture vivid sounds. You can check it out on our Shure Shop and find out more details.
At the same time, do feel free to take a look at other microphones like our range of USB microphones that Shure Shop has a wide range of for you to select from. Not sure where to start? Check out our guide on how to choose the right microphone in Singapore and tips on choosing a microphone for podcasting!
---