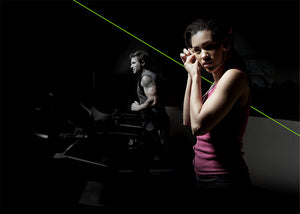 Professional Microphone in Singapore for Fitness Instructors
Get your class motivated with a "no sweat" mic.
Fitness instructor headsets and the appropriate professional microphones vastly differ from the typical hand-held microphones that most are accustomed to. Designed to power through the most intense classes, the right microphone headset will allow you to work up your class to a good sweat without any hassle.
It's great audio that's made to move.
There has been a rise in new fitness studios and boutiques across Singapore. Pair that with the complete easing of COVID-19 restrictions, more studios have opened and increased their class capacity. From muscle building gym sessions to cycling to the tune of high-adrenaline beats at trendy spinning classes, there are tons of options to have a fun, engaging and healthy workout.
Loud music blaring through the speakers, live sound, and instructions that the entire crew will have to hear loud and clear — most, if not all, fitness settings are constantly bombarded with various sounds. As such, one of the most important things you need as a group fitness instructor is a good durable wireless microphone headset. And we're not talking about the microphones that you'll see most musicians holding in the palm of their hands — those were never designed for live use in a fitness setting. You are going to be moving, sweating, and communicating with heart-pumping background music and you wouldn't want to ruin your student's experience with a poor mic, or the wrong microphone for that matter.

Delivering Legendary Audio Performance
At Shure, we specifically bundled the BLX14/SM31FH Fitness Headset Wireless Microphone System that brings fitness and aerobics instructors a cost-effective system with quality sound, simple setup, intuitive operation and dependable vocal microphone performance right out of the box.
The BLX14/SM31FH Bundle includes a Shure SM31 Fitness Wireless Microphone Headset with windscreen and a bodypack transmitter. The headset is specifically designed to sit comfortably while remaining securely in place, even during the most active workouts. The presence of a moisture-repellent hydrophobic fabric also helps protect the microphone capsule from sweat, humidity and corrosion. Individuals besides trainers and instructors who lead a large audience or crowd can also use this microphone during live shows or for any stage performances, as long as they have a suitable speaker set with them.
Get a headset microphone that's high impact in every situation. Secure, durable and sweat resistant, Shure mics ensure that you'll keep your classes moving with audio that's crisp and clear.
Browse a Wide Range of Wireless Systems
We believe that our BLX14/SM31FH Fitness Headset Wireless Microphone System and other wireless systems have helped you to take some of the guesswork out of looking for a wireless headset microphone for your next fitness class. 
You didn't get into the fitness industry to be an audio pro. Running your class physically or virtually is your thing - but making it look and sound great is ours. Whether it's a professional microphone that delivers unrivalled sound quality or easy-to-set-up wireless microphone systems that can be used for virtually any application, take your pick on Shure Singapore! 
---