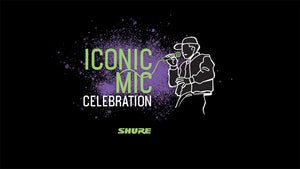 Iconic Mic Celebration 2023 - Custom Shure SM58 Mic Giveaway
Some of the biggest names in the music industry have relied on Shure microphones to capture memorable moments in history. Trusted by global artists, world leaders and musicians, the SM58 Vocal Microphone, Super 55 and 55SH are simply extraordinary. 
In the month of May 2023, Shure is proud to kick off its annual Iconic Mic Celebration. This month celebrates the distinguished history of the Super 55, 55SH, SM58, and other celebrated Shure microphones including the SM57 and SM7B.
Iconic Mic Celebration 🎤

From 1st May to 31st May, in conjunction with Iconic Mic Celebration, simply spend min SGD300 and you can stand a chance to win a custom SM58 microphone!
Taking this opportunity to honor the rich history of the SM58 as the number one microphone used globally, as well as the Super 55 and 55SH, known consistently as two of the world's most recognizable microphones.
Introduced in 1966, the iconic SM58 microphone is designed for professional vocal use in live performance, sound reinforcement as well as studio recording. It is known for its superior acoustic engineering and durability—setting the global standard for performance microphones. 
The Shure Iconic Mic Celebration will feature a video and short animations commemorating the microphones, limited edition t-shirts, custom SM58 Colorware giveaway and including a month-long promotion for the iconic mics such as SM58 throughout May in Singapore!
In collaboration with Cross Ratio Entertainment, Shure is debuting a series of videos spotlighting and celebrate with local artists such as Sherman Zhuo (卓振聲) is Singapore singer-songwriter with an affinity for love songs and R&B. Check out the video below!
---