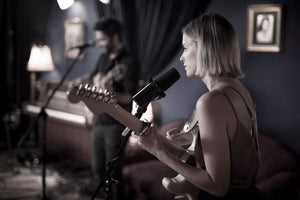 SM7B Dynamic Vocal Mic | Recording Microphone in Singapore
Recording Music with Shure SM7B Dynamic Vocal Microphone and MOTIV MVi Digital Audio Interface

Anyone and everyone can be a musician and you do not need a recording studio just yet. All you have to do is to start with the right quality equipment that can enable you to turn professional thereafter. And if you are just getting started by having your basics settled, you'll need to choose the right microphone. Of all the Shure equipment and best mics to own, the Shure SM7B Dynamic Vocal Microphone and Shure MOTIV MVi Digital Audio Interface allow quality recording that captures the fine details and conveys power to the audience to redefine your craziness.
The world is a stage, so make it yours with the right recording microphone and supporting professional setup. So, how can you go about doing this?
1. Capture Quality Sound with the Right Professional Microphone
Becoming a recording artist or musician requires an amount of investment in terms of musical equipment and accessories. This amount can potentially add up to a significant sum, especially if you do not select the correct equipment for your initial setup. This is why Shure has engineered the SM7B Dynamic Vocal Microphone in a way that provides you with a professional vocal microphone that is readily accessible in Singapore.
Regardless of whether it is for broadcasting, podcasting or studio recordings, the legendary SM7B Dynamic Vocal Microphone delivers smooth, warm vocals each time. Being a dynamic microphone, the SM7B preserves and enhances the finer details of the human voice while blocking out all external distractions. It is also trusted by world-leading vocalists, podcasters and streamers since 1973.
2. Create a Portable Recording Studio
A recording studio is typically where artists and musicians head to if they wish to put out a single or an album. These days, with the help of modern-day technology, Shure has made it possible to create a portable recording studio at the comfort of your own home.
With the compact MOTIV MVi Digital Audio Interface, you can now connect your microphone or instrument to your computer or mobile device. This means that you can actually record your music from the comfort of your own home. Furthermore, the MOTIV MVi has five built-in DSP preset modes (speech, singing, flat, acoustic instrument, loud) that allow for EQ, compression, limiter settings, gaining of control, mute, and volume and phantom power.
3. Combine the SM7B with the MOTIV MVi Digital Audio Interface

MOTIV MVi Digital Audio Interface
The SM7B on its own is an analog microphone. This means that it would not be able to communicate with your computer digitally. Hence, all the more reason for you to buy an audio interface to use the SM7B microphone with a computer, phone or tablet. This is where the MOTIV MVi Digital Audio Interface comes into play. The MVi has the capability of connecting the SM7B with a Mac, PC, iOS or Android device to help in achieving studio-quality sound. 
Where to Buy Microphone in Singapore?
If you are looking for a professional recording microphone in Singapore, the SM7B Dynamic Vocal Microphone is one you can take a look at. It is readily available on our Shure Shop along with the MVi Digital Audio Interface.
If you would like to take a look at other vocal or singing microphones and professional recording microphones, Shure Shop has a wide range for you to consider as well. To get started, check out our guide on professional microphones for Singapore content creators and choosing a microphone for podcasting, if that's what you're into.
---