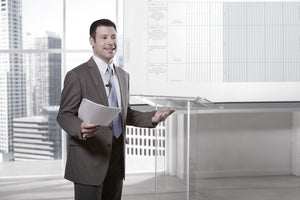 Live Streaming with Wireless Microphones in Singapore
Audio or sound quality is essential for any kind of live stream. This is because whether you're streaming a live performance, a webinar, or a gaming session, your audience will appreciate the improved audio quality that a high-quality microphone can provide. This explains why investing in a high quality microphone is an important step in ensuring that your live streams stand out and capture your audience's attention. With the right microphone and a bit of practice, you can create professional-quality audio for your live streams and take your content to the next level. So, why choose a wireless microphone over the other options in Singapore?  
Benefits of Using Wireless Microphone For Your Live Stream
There are many reasons why you should consider replacing some cables of your live streaming setups with wireless ones. Here are the top three reasons why you should consider these microphones over the vast array of other microphone types in Singapore:
Hands-free: A wireless lavalier mic or a headset mic is unobtrusive and frees up your hands. 
Convenience: It can significantly reduce the need to carry other equipment such as a mic boom stand around during a live stream or recording. 
Free Movement: With a wireless set-up, you just have to ensure you are within range. You don't need to worry about relocating your cameras or being mindful of the cords at all times.
Shure SVX Wireless Systems
Being one of the most trusted audio brands, Shure has earned its wireless pedigree by providing legendary performance and high-quality wireless sound for performers, instructors, presenters and more at every level.
Introduced in 2010, Shure SVX Wireless Systems deliver the quality of Shure wireless performance for virtually any application at an economical price. From vocal performance to fitness instruction and business presentations to karaoke, SVX Wireless will provide years of reliable use.
Can i use my Shure Wireless System or microphone to host live stream with Zoom?
Yes! Check out our ready-made product bundle solutions for a seamless experience.
With the MOTIV MVi Digital Audio Interface adapter, you can use any Shure wireless microphone system with Zoom or other live stream platforms. See the drawing below for simple setup instructions.
You can use any Shure wireless microphone system with Zoom using a Shure MVi adapter.

Simply connect the wireless mic receiver, like a BLX4 or SVX4 , to the MVi as shown in the drawing with a 1/4" cable.

You can connect the Headphone port to a stereo system to hear your participants in the room. Then use the 

Mode button to disable local monitoring of your wireless mic if desired, to prevent feedback. 


Where to Buy Wireless Microphones in Singapore
If you're looking for the best place to buy wireless microphones in Singapore, look no further than Shure. We offer a wide range of high-quality wireless microphones perfect for live streaming, conferences, and other applications. Our range of microphones is designed to provide crystal-clear sound quality and reliable performance, so you can focus on delivering your message without worrying about technical issues. Whether you're a professional performer, a business owner, or a content creator, our wireless streaming microphones are the ideal choice for your needs. So why wait? Browse our selection today and take your audio quality to the next level!
---