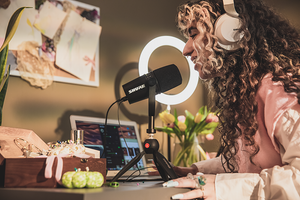 How to Start a Podcast: Audio Basics
The first thing to consider when starting a new podcast is your motivation. You will have a string of questions to consider such as
What will your podcast show be about?
Will you be doing it alone or will you have a co-host?
Where should I be recording the podcast?
And the list can go on and on... All these can seem a bit daunting and overwhelming at first. 
Fret not. Join Naomi Mellor from the Skylark Collective for the new Shure video series on starting your own podcast. Naomi is the producer and host of several shows. From establishing why you should make a podcast to planning for your release, you'll learn more from her on how to get started. Watch on below.
Shure is proud to be a supported of the Skylark Collective, which focused on empowering women in the podcast industry. Dynamic microphones are a must for podcasting due to their ability to block out more room noise. We will recommend you to check out the MV7 Podcast Microphone with USB and XLR interfaces. 
---