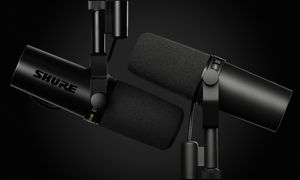 SM7B VS SM7dB: Which one should i choose?
An audio icon is reborn - SM7dB
The SM7B is a legendary iconic microphone cherished by musicians, podcasters and streamers worldwide. Now, the new SM7dB offers the same sound, but has a custom preamp designed by Shure inside. The latest iteration of this legendary XLR dynamic microphone makes it easier for podcasters, streamers and musicians to get perfect vocals from any recording setup.
Which one should i choose? Both sounds as amazing as always. It really depends on your specific situation. Let us break it down for you.
SM7B vs SM7dB:
SM7B is an audio icon known for its legendary broadcast sound
SM7B requires around +60dB of clean gain 
SM7dB has a Shure-designed onboard preamp
SM7dB is more affordable than buying an SM7B plus an extra preamp

Left: The SM7B, Right: The SM7dB
For musicians
If you have very high-quality audio interfaces, you might prefer to stick to the original SM7B. Especially if you are making music and or recording several tracks at a time. 
For Streamers, Content Creators
You love the SM7 sound but you don't want to purchase an expensive audio setup providing oodles of extra gain for a single mic. Or maybe, you have a XLR interface already hooked up to your computer but you simply do not quite have the necessary oomph to power the SM7B. In these cases, the SM7dB will be your choice of microphone.
Another reason why you might prefer SM7dB to the original is for travelling. It helps to eliminate one more item (preamp) from your mobile recording set up. 
Check out this product review by Geek Culture.
---