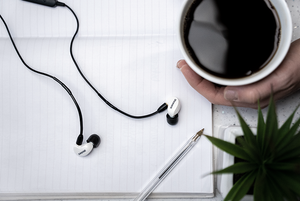 Average is for other ears
 SE215 PRO Sound Isolating Earphones
The SE215 PRO Sound Isolating earphones are known for it's clear sound and deep bass with a detachable cable enabling the option to go wireless. Turn your workday into a concert and your next workout into the discovery of new musical dimensions. 
Let's refresh its features and benefits!
Sound Isolating Technology blocks up to

37 dB of noise 

to eliminate distractions. 

Ergonomic, low profile design built with the same low-profile design musicians use for monitoring on-stage. Over-the-ear design keeps your cables out of the way and provide long-wearing comfort event during high intensity activities.
Detachable 3.5mm cable allows you to attached different cable acessories with an MMCX connection. This includes the True Wireless Secure Fit Adapter for Bluetooth connection.
Durable build quality engineered for professional wear and tear.
Two-year warranty included.
Available in several colors:
Frequently Asked Questions
1. What's the difference between AONIC 215 and SE215?
The earphones are the same between the two. Aonic 215 comes with an Android and iPhone compatible communication cable with a built-in mic and controls for audio and phone calls. The SE215 Pro earphones come with a standard cable with no mic or controls. Aonic 215 is geared toward consumers, the SE215 Pro is designed for on-stage in-ear monitoring.


2. How to properly fit and wear Shure earphones?
3. How to change earphone sleeves?
4. Are the second generation AONIC 215 True Wireless Adapter IP-rated (Ingress Protection)?
Yes. The adapters are rated IPX4 for sweat and water resistance. Earphones are connected to TW2 Wireless Adapter, these two integrated components are rated IPX4 as an integrated system. The charging case and the detached "standalone" earphones by themselves are not IP-rated. However, the earphones are designed to pass rigorous quality and durability testing to ensure they'll maintain peak performance. Note: first generation of the Secure Fit Adapter (RMCE-TW1) and the first generation of the AONIC 215 True Wireless Earphones are not IP-rated.


SE215 Customer Reviews
Check out some of the reviews around the globe (extracted from shure.com).
---