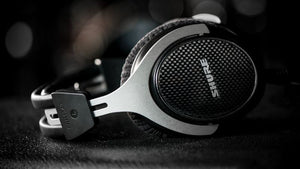 Closed Back vs Open Back Headphones
AONIC 40 Wireless Noise Cancelling Headphones
From wireless headphones to noise-cancelling headphones, there is no denying that multiple advances have been made in the world of audio-listening experiences. And whenever most consumers in Singapore and beyond think of headphones, the closed-back ones would naturally come to mind for the simple reason that closed-back headphones are often the ones readily available in both online and retail shops.
This means that open-back headphones are not the most heard or talked about type of headphones amongst the everyday consumer. This is probably because most consumers tend to think more about whether the pair they have their eye on is wired vs wireless headphones or if it is a pair of noise-cancelling headphones. These are the factors they would usually consider when making a purchase.
Audiophiles, however, beg to differ on this. Beyond simply thinking about how to choose a pair of noise-cancelling headphones, they do also take into account if it is a pair of closed or open-back headphones..
What Are Open-Back Headphones?


SRH1840 Professional Open-Back Studio Headphones 
Open-back headphones, like the name suggests, have an open back that enables air to pass through their ear cups from the rear of the speaker driver. Through this, the resonances and low-frequency build-up (which is created from the rear being enclosed), would not be a concern. This is also the reason why open-back headphones tend to be priced at a steeper level compared to other types of headphones readily available in the market in Singapore as they are more natural and clear sounding.
However, open-back headphones do not function like noise-cancelling headphones or sound-isolating earphones which have the capability of blocking the exterior noises around you. On the contrary, open-back headphones can possibly leak sound out due to the way they are designed. This makes them more suitable for home usage or as a pair of professional headphones in the studio for mixing and mastering.
What Are Closed-Back Headphones?

SRH840A Professional Studio Headphones
Closed-back headphones are typically the ones you would see being sold in most online and retail shops. They are completely enclosed around the back so that the sound will be kept surrounded around your ears alone. The drawback to this sound isolation is that the sound might not be as natural-sounding compared to that of open-back headphones.
Perhaps another drawback to closed-back headphones is that they could possibly cause some discomfort or warmth if they are being worn over an extended period of time. Nonetheless, when it comes to picking something great for commuting, closed-back headphones are generally ideal over open-back headphones.
Are Closed or Open-Back Headphones For You?
So after giving a rundown of both closed and open-back headphones, you can understand why audiophiles do not just base their decision purely between wired headphones or wireless headphones. They would first look at the purpose of their purchase and the setting in which they will be mostly using them.
For the everyday consumer, it is natural to favour closed-back headphones as most would use them during their daily commute. At the same time, they are built in a way that ensures that the sound remains isolated around your own ears and will not disturb others around you — almost like how noise-cancelling headphones work to keep the outside noise out from your own listening experience.
If sound quality is paramount to you and you are using it primarily in an isolated setting such as your own home, then open-back headphones are the way to go. Whether you are using it for gaming, listening to music or even producing music, this is the ideal choice for an accurate listening experience. Do take a look at Shure's headphones collection online, where you can find a wide range of closed and open-back headphones in Singapore that cater to varying needs. To get started, check out our guide on the differences between noise-cancelling, wireless and open-back headphones and our article on the distinguishing factors of earphones and headphones.
---