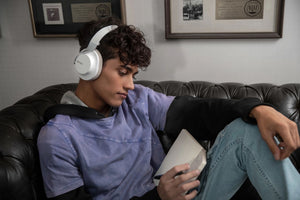 3 Tips to Choose the Perfect Pair of Noise-Cancelling Headphones in Singapore
AONIC 40 Wireless Noise Cancelling Headphones
 Indulging in the ultimate music experience demands exceptional sound quality, and noise-cancelling headphones deliver just that. While they may be considered a more significant investment in technology, the unmatched audio immersion they provide is worth every penny. Whether it's for work or leisure, investing in a pair of top-quality headphones in Singapore ensures unrivalled sound and takes your music journey to new heights. Simply put, all you'll need is a pair of noise-cancelling headphones to revel in the art of true audio bliss. After all, they are designed to elevate every note and beat.
Amidst the plethora of wired and wireless options available, finding the perfect pair of noise-cancelling headphones in Singapore might seem overwhelming. So how exactly should you choose a pair of noise-cancelling headphones? Here are 3 tips to guide you towards the ideal noise-cancelling headphones that will elevate your music encounters to extraordinary levels.
1. Size of the Noise-Cancelling Headphones

Most headphones in general, would have ear cups that cover your entire ear. These are also known as "around-ear headphones" and tend to be the ones with noise cancelling technology in place. Although there are noise-cancelling headphones that are smaller in size, the around-ear setup acts as an additional physical and passive barrier to the external sounds around you. This allows the noise cancellation feature to work even better.
One of the main differences between earphones and headphones is the bulky nature of the latter, which can be a turn-off to some. However, this design is also the reason the technology works so well. Thankfully, there are more portable headphones such as the AONIC 40 Wireless Noise Cancelling Headphones that can be collapsed and folded flat for much easier travel and storage.
2. Battery Life of the Noise-Cancelling Headphones
AONIC 50 Wireless Noise Cancelling Headphones
When searching for the perfect noise-cancelling headphones, battery life becomes a pivotal aspect to consider. A longer-lasting battery ensures uninterrupted listening pleasure, allowing you to savour your favourite tunes, podcasts, or calls without worrying about sudden power depletion. 
In the past, we relied on alkaline batteries with limited capacities, but with the help of modern-day technology, lithium-ion batteries have transformed the headphone experience. Take the AONIC 50 Wireless Noise Cancelling Headphones, for instance, boasting an impressive 20 hours of continuous audio playback on a single charge. With extended battery life at your disposal, you can immerse yourself in a world of sound, free from interruptions and constraints, making your music encounters truly extraordinary.
3. Comfort of the Noise-Cancelling Headphones
Gone are the days of old headphone designs that caused discomfort and strain during extended wear. Similar to how battery life has improved significantly over time, the same goes for the comfortability of headphones. With advancements in ergonomic engineering, modern noise-cancelling headphones are designed for supreme comfort, ensuring you can indulge in your music, podcasts, or calls without any discomfort. Bid farewell to cumbersome designs that weighed down on your ears, and embrace the pleasure of seamless comfort that keeps you immersed in sound for hours on end.
Moreover, the ear cushions being used to manufacture noise-cancelling headphones these days would unlikely make your ears sore after long hours of wear. Even the headband has been designed ergonomically like that of the SRH840A Professional Studio Headphones to ensure that you do not get a headache after using them.
Weight is another factor that determines the comfort level of a pair of headphones. Due to the nature of their size, headphones would generally weigh more than any other earphone. However, if you simply compare the weight of different headphone models, they can vary vastly too.
So, how do you go about choosing one that offers unrivalled comfort? The best way to test the comfort of a pair of headphones is to try them on physically. Ideally, try to keep them on for at least the entire length of a song so that you can determine how the cushions conform to the shape of your ears and how much heat is produced after some time of use. 
Find Your Ideal Pair of Noise-Cancelling Headphones with Shure

SRH840A Professional Studio Headphones

With all the above-mentioned tips, you're all set to find the best pair of noise-cancelling headphones in Singapore that will cater to your needs and preferences. Beyond the size, comfort, and battery life of the headphones that you have your eyes on, it is crucial to decide if you'd prefer to own an open-back, wired, or wireless headphone. Taking the time to understand the difference between closed-back and open-back headphones can also help you choose the right one for you. Alternatively, you can also ask for a recommendation via the Shure Shop. Our experts would be able to advise on the best pair of headphones that would suit your needs.
From studio-quality noise-cancelling headphones to wireless headphones, we have them all and much more to elevate your audio experience to new heights. Indulge in unrivalled sound clarity and immerse yourself in a world of sonic bliss with Shure's top-of-the-line headphones tailored to elevate your musical journey. Experience the epitome of performance, comfort, and style with our extensive range of premium headphones, where every note and nuance comes to life. Choose Shure and embrace a listening experience like no other.
---