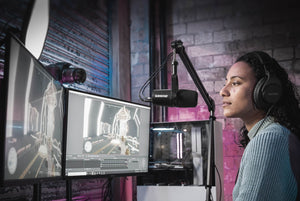 Livestreaming Handbook: Miking Tips, Mic Basics & more
Live Streaming Handbook: Miking Tips, Microphone Basics & More for Streamers in Singapore
From podcast production and live streaming electrifying performances to immersive journalism that uncovers critical issues, your smartphone now wields the power to amplify your voice across the globe. This digital evolution is reshaping casual content creators into influential cultural pioneers.
Yet, not all content holds the same allure – if you want people to appreciate your work, you'll first need to ensure it sounds good. Yes, smartphone cameras are incredible these days, but the mics ... not so much. To make stuff that people care about, you will need high-quality audio. And that means getting your hands on a professional microphone.
But which microphone fits your needs like a glove? The answer hinges on your specific pursuits. 
To navigate this terrain, the MIKED UP is our latest handbook for live streaming that contains miking techniques, tips, tricks and mic basics for all kinds of streamers. Whether you are a gamer, vlogger, DJ or creating content on Twitch, or YouTube, you can find information on how to capture high-quality audio with this useful MIKED UP handbook for streamers.
Get ready to take your live streams to the next level with Shure.
DIFFERENT TYPES FOR MICROPHONES
Content creators often find themselves choosing between two main types of microphones: dynamic and condenser. But what exactly distinguishes these two? Let's explore the subtle yet significant differences between them.
Dynamic Vs. Condenser Microphone
Dynamic microphones are popular for field use due to their ruggedness and reliability. They work well in various situations and with different types of voices. While they may not be the most sensitive microphones, this can be an advantage when recording in environments with background noise.
On the other hand, condenser microphones boast high sensitivity and capture a wide spectrum of sounds, making them versatile for tasks such as podcasting and field recording. Yet, compared to dynamic microphones, they can pick up subtler sounds like breathing, stomach noises, and room ambience like air conditioning hum. They require phantom power* for operation. 
 *Curious about phantom power? Discover more in the MIC BASICS section.
ACOUSTICS 101
When it comes to podcasting and live streaming, understanding room acoustics holds a significance nearly on par with selecting the right microphone. Here are how your room acoustics can affect the quality of audio recordings for podcasting and live streaming. 
1. ABSORBERS
As the name suggests, absorbers are things that absorb sound. They are pivotal in refining acoustics and are often seen in professional recording studios as acoustic panels. By neutralising unwanted sound reflections, absorbers enable you to capture the true essence of your audio source. Soft elements like curtains, cushions, and plush furniture also excel at sound absorption. A space adorned with these elements becomes a haven for podcasting and live streaming, ensuring a clearer and more authentic auditory experience.
2. DIFFUSERS 
Diffusers work by dispersing sound rather than eliminating it completely. This dispersal technique effectively reduces echoes and reverberations that can muddle your audio recordings. Elements such as books, furniture arrangements, photos, and even potted plants contribute to the diffusion process, ensuring a more balanced and natural sound environment for your podcasting and live streaming sessions.
3. ROOM CHOICE
Selecting the right room might appear straightforward, but opting for a space with favourable acoustics from the outset significantly simplifies your task. Bedrooms often prove ideal for recording due to their inherent sound-absorbing elements like cushions and curtains. Remember to shut windows and silence noise-producing appliances, such as air conditioners, washing machines, and fans, to ensure clean audio quality.
STREAMING TIPS AND TRICKS
LIVE STREAMING
The shift from niche to mainstream is undeniable in live streaming. Gamers, DJs, and a multitude of creators are providing a constant stream of information and entertainment that's captivating audiences, effectively replacing traditional TV for many. The appeal lies in the ability to engage with content in real-time, fostering a sense of connection that TV couldn't quite achieve. So, how can you go about doing the same?
1. READING THE ROOM
As a live streamer, crafting a setup that suits your content creation needs is vital. However, many creators overlook the importance of acoustics and connectivity in their streaming space. While aesthetics and comfort are crucial, it's essential to strike a balance with factors that can significantly impact your stream's quality. Consider adjusting your space to enhance sound and connectivity, ensuring a professional and engaging live streaming experience.
2. MINIMAL EFFORT, MAXIMUM IMPACT
For enthusiasts of minimalist interior design, here's an unexpected twist – having more objects in your room actually enhances its sound quality. Items like plants, clothes, and cushions serve as sound diffusers, enriching your audio experience.
3. PLUGGED IN
Opt for a hardwired internet connection when streaming, if possible. It significantly outperforms Wi-Fi and certainly trumps using your phone's wireless data unless your home happens to sport a telecom mast.
5. QUIET OASIS
Select a serene corner for your streaming setup, far from the clatter of noisy appliances. Broadcasting next to your refrigerator might be convenient for mid-livestream refreshments, but detrimental to audio quality.
Minimum upload rates for streaming resolutions: 720p (30 fps) 3 Mbps | 720p (60 fps) 4.5 Mbps | 1080p (30 fps) 4.5 Mbps | 1080p (60 fps) 6 Mbps
GAMING
For those conquering games like Fortnite, Counter-Strike, or Minecraft, a superior audio setup is pivotal to convey your prowess effectively. Here's what you need to know:
1. NOISE ANNOYS
The biggest hurdle in gaming live streaming often lies in your surroundings. This is where dynamic microphones, such as the SM7B Cardioid Dynamic Vocal Microphone or MV7 USB & XLR Podcast Streaming Microphone, shine – capturing your voice without picking up background noise.
2. STANDING OVATION
Place your microphone on a desk boom stand if possible. This reduces vibrations and noise and ensures your face isn't obscured from the camera's view during video streaming.
3. ASSUME THE POSITION
Position the mic in front of you, directly at your mouth. For dynamic mics, maintain about an inch (2.5 cm) distance from your mouth. For condenser mics, allow around six to seven inches (15 cm-20 cm).
4. SIT UP STRAIGHT
Heed the advice of your mother and sit up straight. Proper posture aligns your vocal apparatus, endowing your voice with depth and range.
INTERVIEWS & SOLO STREAMING
Whether sharing insightful opinions or unboxing products, making your live streams stand out requires some thoughtful measures. Here are a few:
1. THE RIGHT MIC FOR THE JOB
Choosing a mic depends on your filming equipment. For mobile phones, opt for a USB microphone like the MV88+ Stereo USB Microphone. Set the input level so that your voice falls in the -12db – 0db range (make sure it doesn't hit 0db, or else your voice will sound distorted).
2. CAMERA COMPATIBILITY
If using a DSLR, a shotgun mic that attaches to the camera's top bracket is ideal. Plug the mic directly into the DSLR and set the input level so that your voice falls in the -12db to 0db range.
3. INTERVIEW ETIQUETTE
Select between lavalier (lapel clip-on style) or handheld mics for interviews. Lavalier mics offer hands-free convenience, while handheld mics deliver superior audio quality.
4. ART OF PACE
Speaking slowly is the golden rule for content creators. Enhancing clarity, it also projects an air of calm confidence.
LIVE CONCERTS
For streaming concerts, simplicity is key. Avoid overly elaborate setups until you've gained experience. Check out these tips and tricks:
1. SIMPLIFY THE SET-UP
Solo performances benefit from stereo mics like the MV88+. For bands, opt for room mics positioned in a spaced pair or X/Y configuration, supplemented by vocal microphones.
2. MONITOR YOUR SOUND
Always monitor audio through quality headphones or in-ear monitors.
3. STAY UNPHASED
If you are using multiple mics, check for phase issues. 
4. DON'T LAG
Sync video and audio to avoid surreal mismatches. Confirm your upload rate can accommodate your chosen video resolution.
5. PRE-RECORD IT
To alleviate connectivity concerns, consider pre-recording the concert. You can still introduce and conclude the performance live, reducing stress while maintaining engagement.
RAVE REVIEWS
When the pandemic disrupted their biggest DJ event, Inquiry Collective transformed the setback into a triumphant livestreaming endeavour. This arts and music group capitalised on the lockdown to connect with a broader online audience. Today, they curate livestream events featuring artists like Moontribe, Electro Swing Thing, and DJ Ben Annand, consistently drawing crowds of over 20,000 viewers or more.
Their secret? Treating livestream events with meticulous attention to detail akin to any other major production. From event descriptions on social media platforms to visual graphics and stage design, every element should harmonise seamlessly. Moreover, delegating roles within the team ensures efficient task management, eliminating confusion.
For enhanced streaming quality, they emphasise upgrading internet connections and utilising ethernet cables. On the video front, a 1080-pixel webcam coupled with a reliable performance microphone such as the SM58 works wonders. 
And, perhaps most importantly, embracing unforeseen challenges with composure is key. According to Inquiry Collective, staying calm in the face of mishaps, often linked to internet glitches, expedites solutions.
Visit their website: www.inquirycollective.com, to explore their successful journey in live streaming.
STREAMING MICROPHONES
When it comes to impeccable audio for your live streams, selecting the right microphone is paramount. Here's a selection of microphones tailored for streaming success:
1. THE SM7B
Unveil the legendary charisma of this dynamic microphone, rendering velvety vocals with every utterance. Its prowess lies in capturing intricate vocal nuances while effectively eliminating ambient disturbances, creating an audio legacy.
2. THE MV7
The MV7 microphone is a dynamic marvel equipped with both USB and XLR outputs, harmonising seamlessly with computers and professional interfaces alike. Engage the Auto Level Mode and leverage the Voice Isolation Technology, transforming acoustically challenging environments into ideal streaming spaces.
3. THE MV5
Unlock the world of enhanced audio without breaking the bank. This affordable condenser microphone is a stepping stone for budding podcasters seeking audio upgrades. Choose to connect with USB.
4. THE MV88+
Tailored to diverse needs, whether you're a smartphone-reliant creator or a musician. This versatile stereo condenser microphone boasts both USB and Lightning cables, potentially being the sole microphone required for your streaming endeavours.
5. THE SM58
The SM58 stands as one of the most widely utilised dynamic microphones globally. Renowned for its durability and outstanding sound quality, it's an excellent choice for podcasts featuring multiple participants and requiring an XLR interface.
6. THE MVi
Compact and portable, the MVi is a USB digital audio interface presenting XLR and 1⁄4" inputs. Its features encompass 5 DSP presets catering to EQ, compression, and limiter settings, accompanied by phantom power for condenser microphones. This multifunctional tool elevates your streaming setup to a professional level.
MICROPHONE BASICS
Navigating through microphone terminologies can be bewildering. Let's dive into the world of microphone intricacies, demystifying concepts such as polar patterns and phantom power.
3-TO-1 RULE
When multiple microphones are in play, maintaining a distance three times that of the sound source is crucial. Picture two mics, each placed 300 metres away from a drum, requiring a 1-metre gap between them.
AMBIENCE
Contrary to cosy studio vibes, here it pertains to room acoustics and the inherent natural reverb within a space.
BLEED, LEAKAGE, OR SPILL
Capture of an instrument by a microphone intended for another primary sound source is termed "leakage." Typically, sound engineers strive to minimise this effect; however, embracing controlled leakage can infuse recordings with a vibrant live ambience, lending an artistic touch to the final result.
CAPSULE
At the heart of a microphone, the capsule is where acoustic energy gets transformed into electrical signals through a transducer. Different mics (dynamic, condenser, ribbon) use different types of transducers.
FEEDBACK
That notorious squelching sound caused by a loop between a microphone and a loudspeaker, a no-go for seamless live streaming experiences. A guitarist might love it. Your livestream audience likely does not.
FREQUENCY RESPONSE
How a microphone interacts with different sound frequencies, depicted in decibels and hertz, defines its frequency response. A uniform frequency response denotes that a microphone treats all frequencies uniformly. Opting for a microphone with a customised frequency response that matches your sound source yields the most authentic audio. Case in point: The SM7B offers a smooth, wide response that gradually diminishes in higher frequencies, delivering the sought-after rich 'podcast voice' you've been yearning for.
INVERSE SQUARE LAW
A straightforward physics concept: sound levels change by about 6 dB with a doubling or halving of the distance between source and microphone. It also underscores how important mic placement is!
ISOLATION
Isolation isn't merely about solitude; it's the microphone's prowess in rebuffing unwanted sounds, a remarkable shield against intrusive interferences. 
PHANTOM POWER
Not a rock band reference but an additional DC voltage, usually 48 volts, empowering condenser mics through preamps. An electrifying term, indeed.
PHASE CANCELLATION
Mismatched waveforms of combined audio signals from multiple mics on a single source, leading to weak and feeble audio output.
POTENTIAL ACOUSTIC GAIN (PAG)
Delve into the sonic realm where Potential Acoustic Gain (PAG) resides. This metric encapsulates the pinnacle of amplification a sound system can ascend to, hovering right below the precipice of feedback.
POLAR PATTERNS (MIC DIRECTIONALITY)
Graphing a microphone's sensitivity angle to the sound source, showcasing patterns like unidirectional, bidirectional, and omnidirectional.
PRE OR PREAMP
A preamplifier, often termed a preamp, magnifies a less potent
microphone
signal before it enters the console for mixing and recording. To put things in perspective, a standard mic level signal hovers around a modest 2 millivolts, while pro audio's 'line level' standards rest at 1.28 volts, highlighting the considerable enhancement preamps offer to sound quality.
PROXIMITY EFFECT
Characteristic bass boost in unidirectional mics when placed close to a sound source, offering depth and richness. This does not occur with omnidirectional microphones.
ROLL-OFF
A gentle attenuation in audio response, either above or below a designated frequency range. This feature proves invaluable when aiming to curtail unwanted sound interference – opt for a microphone with a low roll-off to mitigate bass drum bleed, or a high roll-off to subdue cymbal dominance in your recordings.
SOUND PRESSURE LEVEL (SPL)
Decibels measuring sound intensity, a critical consideration while choosing mics for different parts of a drum kit.
XLR
A pro audio staple, the three-pin XLR connector ensures balanced signal transmission, reducing noise, especially in longer cables.
Setting Your Sonic Voyage: Crafting Remarkable Live Streams with Shure
As your voyage through the captivating realm of content creation and streaming unfolds, the unchanging essence of high-quality audio remains an indispensable cornerstone. Shure, your reliable companion on this dynamic journey, seamlessly blends state-of-the-art technology with tried-and-true expertise. From the intricate nuances of microphone selection to the art of mastering room acoustics, Shure empowers you with invaluable insights that propel your live streaming endeavours to new heights. Whether you're a dedicated podcaster, a skilled gamer, a passionate musician, or a visionary content creator, Shure's fusion of advanced tools and refined techniques ensures your storytelling is conveyed with exceptional sound quality that resonates powerfully with your audience. 
Embark on your streaming journey with confidence, armed with Shure's knowledge and tools, poised to create moments that transcend mere content.


---