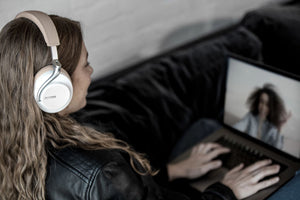 Finding the Best Headphones in Singapore | Shure Singapore
SRH1840 Professional Open-Back Stereo Headphones
Looking to upgrade your audio experience? Say goodbye to flimsy headphones that break easily and offer subpar sound quality. Shure, a trusted name in high-quality audio equipment, has your back. As a prominent figure in the audio industry, Shure boasts an impressive lineup spanning microphones, wired earphones, and headphones.
Beyond that, renowned for crafting top-tier audio gear, Shure offers some of Singapore's finest professional headphones.
But we get it. Navigating the crowded headphone market can be daunting. Fret not! Shure simplifies the process for you. 
In this blog post, we'll take a closer look at some of the best Shure headphones available in Singapore and why they're worth considering.
Standout Features of Shure Professional-Grade Headphones
When it comes to Shure headphones, durability takes the spotlight. Made with top-of-the-line materials, these headphones are built to last. Whether you are using them for your daily commute, an intense workout, a long flight, or even for professional use, Shure headphones are designed to weather the rigours of everyday use while preserving their exceptional sound quality. But that's not all! Revel in features like a collapsible design that adds to their allure, making storage and portability a breeze.
But what truly sets Shure headphones apart is their audio prowess. With advanced technology and top-notch engineering, Shure headphones produce clear, crisp, and powerful sound that will enhance your listening experience. For example, their precisely tailored frequency response ensures rich bass, clear mid-range, and extended highs, ensuring your auditory journey is nothing short of immersive and enjoyable.
So, expect crystal-clear, powerful audio that enriches every listening experience, whether you're a music aficionado or a dedicated podcast follower!
A Look at Some Shure Headphones in Singapore
SRH440A Professional Stereo Headphones
So, what are the best Shure headphones available in Singapore? Let us take a look at some of the top options:
SRH1840 Professional Open-Back Stereo Headphones
The SRH1840 Professional Open-Back Stereo Headphones feature individually matched drivers for an unparalleled acoustic performance, including smooth, extended highs and accurate bass. Ideal for mastering and critical listening applications, the SRH1840 offers an auditory experience like no other. Moreover, the SRH1840 includes an ergonomic dual-frame, padded headband that is lightweight and fully adjustable for hours of listening comfort.
SRH840A Professional Stereo Headphones
Built to provide accurate and well-balanced audio, the newly designed SRH840A Professional Monitoring Headphones are optimised for critical listening and studio monitoring. The SRH840A also includes a bayonet clip that can securely lock the cable into the ear cup.
SRH440A Professional Stereo Headphones
If you are a musician or audio engineer, the SRH440A Professional Stereo Headphones are a must-have. With accurate frequency response and excellent sound isolation, these headphones are perfect for studio recording, mixing, and mastering. The SRH440A also features a collapsible design for easy portability and storage.
AONIC 50 Wireless Noise Cancelling Headphones
For the ultimate listening experience, look no further than the AONIC 50 Wireless Noise Cancelling Headphones. These wireless headphones feature active noise cancellation technology, which blocks out external noise and allows you to focus on your music or calls. The AONIC 50 also have up to 20 hours of battery life and customisable EQ settings, so you can tailor your listening experience to your preferences.
Where to Buy Shure Professional Headphones in Singapore

AONIC 50 Wireless Noise Cancelling Headphones

In the realm of audio equipment, the choice of headphones is paramount. It's not just about hearing but experiencing music, podcasts, and more in their full glory. Shure understands this and delivers on every front — from durability to exceptional sound quality.
If you're interested in purchasing a pair of Shure headphones in Singapore, you can visit our official Shure online store. Here, you'll find a wide range of Shure products, including the SRH1840, SRH440A, and AONIC 50 headphones mentioned above.
Overall, Shure headphones are an excellent investment for anyone who values high-quality audio and durability. Whether you're a music producer, commuter, or casual listener, there is a pair of Shure headphones that will suit your needs. So why settle for mediocre headphones when you can have the best? Check out Shure headphones today!
Not sure where to start? Check out our guides on Tips to Choose the Perfect Pair of Noise-Cancelling Headphones in Singapore and the Difference Between Closed Back and Open Back Headphones to make an informed choice.
---